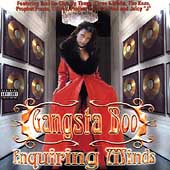 Gangsta Boo
Enquiring Minds
Hypnotize Minds/Relativity Records
1 December 1998
Ranking: 8.5/10
As you listen to this album, your mind and ears will soon be inquiring about Gangsta Boo. You'll soon find out that Gangsta Boo is a member of the Three 6 Mafia (who are renown for their underground single 'Tear Da Club Up', which has incited riots and caused them to be banned in more than a dozen states). And her debut album is rippling with the Three 6 Mafia sound and style – upbeat, pulse-raising and raw. Not to mention that the Tear Da Club Up Thugs are featured on nearly every song, yielding a great mix of male and female vocals. Gangsta Boo's got a great future. Lyrically, she's got some great ideas, values and thoughts. Unlike most female rappers as of late, she discusses a wide spectrum of subjects in her songs – which brings much respect. The production is original and I'm really beginning to like the Three 6 Mafia sound.
This album has so many great songs! "Who We Be", has got some great backbeats and background sounds. It's got a sultry female R&B background chorus, that's masterfully blended with a male chorus which consists of: 'mafia, mafia'.
It's the longest song on the album and features equal versus by all Three 6 Mafia members. Great song! "I'll Be The Other Woman" is the slowest song on the album. It's an amazing demonstration of Gangsta Boo's lyrical skills. She brings forth the subject of respect in a relationship. Definitely a soul catcher. "Oh No" has amazing production. It features a deep unrecognizable male background voice that will leave you mesmerized. "F**k You" is upbeat and in your face with great beats and basslines. It's chorus is threatening and at the same time scintillating. The lyrics thump you in the face and wake you up. "Where Dem Dollas At", the first single, has some great lyrics. Gangsta Boo tells her female counterparts to make sure that their man can provide financially before bearing his child. Deep stuff.
This album is crazy good. It was a really impressive piece of work from an underground-gone mainstream artist. Gangsta Boo, Three 6 Mafia and their Tear Da Club Up Thugs are bound for success. They've got great upbeat songs with original production and electrifying lyrics. Watch out for this crew they're gonna be tearin the clubs even more in the very near future. Gangsta Boo's got an amazing style all her own. So if you like female rappers, then you better check this album out.

www.brockwayent.com

(Originally posted on HipHopCanada.com)