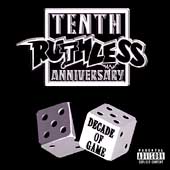 Decade of Game
Ruthless Records Tenth Anniversary Compilation
Ruthless Records
This 2-CD compilation album is definitely a great old-skool album. My first impression of many of the songs on this compilation album was that I'd heard them before. In fact, several of the songs on this album have remakes or sampling taken from them. Last year's release of the album "In the Beginning there was Rap" features a remake by Mack 10 of the second song of the album, 'Dopeman', which was released by N.W.A in 1988. Another notable remake is the first CD's 7th track, 'It's Funky Enough' by The D.O.C, has a remake entitled 'Getting Funky' on SWV's latest album and features Snoop Dogg. It's one of my favorite tracks on the SWV album.
The Ruthless Records Tenth Anniversary Compilation features the likes of Ruthless founder, the late Eric "Eazy-E" Wright, who is considered one of the pioneers and founders of 'gangsta rap', and his 4 songs on this album are no exception. The compilation features '24 HRS To Live' and 'Black Nigga Killa', never-before heard tracks by Eazy-E. (And no the first song doesn't bear any similarity to Mase's song '24 Hours to Live'). N.W.A (Niggas Wit Attitude), whose album "Straight Outta Compton" was the first album to go platinum with no radio airplay, has 3 songs on this album. N.W.A. featured the late Eazy-E, and some of today's rap legends: Dr. Dre, Ice Cube and MC Ren. MC Ren, in fact also has 3 songs on the compilation. The D.O.C also contributes 3 songs to this compilation. The D.O.C. was also a member of N.W.A. Also featured on this album are: Michel'le, Above The Law, H.W.A. (Hoez With Attitude), (their rapping style directly reflects their name - in your face stimulating lyrics, for example their songs the album are 'Great Tazte - Less fillaz' and 'I Ain't No Lady'), and JJ FAD, who were the first female rap group to be nominated for a Grammy Award. Their only song on the album, 'Supersonic', would be the perfect warm-up song for any team from Sussex, N.B.. It's borders on the same style as Technotronic's 'Pump up the Jam'.
On the whole, I liked the albums. It felt like a blast from the past. Eazy-E has an amazing rapping style and I really liked all 4 of his songs: '24 HRS To Live', 'Real Mutha****in Gs', 'Black Ni**a Killa' and 'Boyz-N-The-Hood'. He's able to mix dope lyrics with crazy rhymes, to go along with reverbating beats.
MC Ren is the artist behind my favorite song on the double album, entitled 'Same Ole S**t'.
'Black Superman', recorded by Above The Law was another one of my favorites. A song about their ability to overcome the obstacles of the hood and to serve as a superhero of sorts for others. 'Murder Rap' is another great song by Above The Law that has an amazing backbeat that I'm sure that I've heard before, but I just can't figure out where.
I even found myself reciting the only slow jam on the album, Michel'le's: 'Something In My Heart'.
My only disappointment with this album is the fact that it contains no Bone Thugs-N-Harmony songs. Eazy-E discovered Bone Thugs-N-Harmony and signed them to a contract with Ruthless Records. They released their first of 3 albums in 1994 and have since found great success. This album just doesn't seem complete without at least one Bone Thugs-N-Harmony song on it, considering that they're the main group that is helping keep Ruthless Records afloat. Although, I can understand that they may have been excluded because the purpose of the album was to promote the old skool sound and founding members of Ruthless Records.
Overall, I enjoyed this album. The double-album's style successfully jumps all over the place and mainly delves in and out of the 'gangsta rap' style, but also provides the techno bounce sound with JJ FAD's 'SuperSonic' and then there's Michel'le's heart-warming slow jam, 'Something in My Heart'. The rap industry definetely lost an amazing artist in Eric "Eazy-E" Wright when he died of AIDS in 1995. His style reminds me a bit of Westside Connection and he was definetely a pioneer of West Coast Rap. He was a respected and very successful producer as is evidence by his creation of N.W.A., one of the most famous groups in rap history. This album is a must for your collection if you're a fan of old skool or 'gangsta rap'. You might already have some of these songs, but it's quite likely that you don't have them all. And Ruthless Records seems to have perfected the 'gangsta rap' style nearly to the T. The album's tracks are diverse in their sound, but for the most part, maintain that, in your face, lyrical style. I think that Ruthless Records Tenth Anniversary Compilation is definetely worth checking out.

<!TABLE width="580" BORDER="0" cellpadding="4" cellspacing="0">
<!/TABLE>
Track Listing
Disc 1
01. Intro
02. 24 Hours To Live - Eazy-E (previously...
03. Dopeman - N.W.A. (remix)
04. Untouchable - Above The Law
05. Same Ole Shit - MC Ren
06. Great Tazte-Less Fillaz - HWA
07. It's Funky Enough - The D.O.C.
08. Alwayz Into Somethin' - N.W.A.
09. Fuck What Ya Heard - MC Ren
10. I Ain't No Lady - HWA
11. Murder Rap - Above The Law
12. Real Muthaphuckkin' G's - Eazy-E
Disc 2
01. Black Nigga Killa - Eazy-E (previously unreleased)
02. 8 Ball - N.W.A. (remix)
03. Final Frontier - MC Ren
04. Formula, The - The D.O.C.
05. Black Superman - Above The Law
06. Supersonic - J.J. Fad
07. Boyz-N-The-Hood - Eazy-E
08. Something In My Heart - Michel'le
09. Nicety - Michel'le
10. Grand Finale, The - The D.O.C.
11. Outro


www.brockwayent.com

(Originally posted on HipHopCanada.com)


---