Freddy Show, Canadian Rap Mix 2006 & Super Dude shirts...
Happy Holidays! I hope it finds you in good health, with food on your table and a roof overhead. If only we were all so blessed... I like to give at Christmas, so I have 300 copies of my 'Canadian Rap Mix 2006' to give away for free. Read below for how to get your copy..

I've loved the anonymity of Ottawa, but I have to say it's nice to be back in Fredericton for Christmas and feel like a celebrity again. Shoutouts to the girls & Patrick who know all the words to "Shake Ya Caboose."

In celebration, I'm playing Nick of Time's Christmas party at The Capital, 362 Queen St on Thursday, Dec. 28th with Greg Webber, Ban Jovi & Rag Tide - $5. Shoutouts to two of Fredericton's hardest working show promoters, James Boyle & Zach Atkinson, for letting me play for my Freddy fans & friends.

Also, my good friends at Pimp Juice (Nelly's energy drink) have sent along a bunch of prizes to give out. I'll also have Super Dude shirts for sale and free copies of my 'Canadian Rap Mix 2006' available.


Brockway Ent's Canadian Rap Mix 2006
--------------------------------------------------------------------
As cheesy as it might sound, Christmas is a time of giving for me. What started out as a few handmade copies of my favourite songs for family & friends in 2002, has turned into an all-Canadian hip-hop mix CD. Now in 2006, my main motivation is giving back to the hip-hop community, as hundreds of copies are handed out for free.


| | | |
| --- | --- | --- |
| | | Brockway Entertainment's Canadian Rap Mix 2006 contains 22 tracks featuring over 30 Canadian artists. It spans 10 Canadian cities, covering scenes as unexpected as Saskatoon, as obsolete as Dibgy, NS, and as major as Toronto. The CD is mixed by my friend, DJ Ducats, whose Peaceful Journey radio show on Ottawa's CKCU recently celebrated its 10-year anniversary. |

The Track Listing:
01 - DJ Stereotype (Connecticut) - Hockey Night In Canada Intro feat cuts by DJ Ducats of Brockway Biggs, DL Incognito, God Bless (aka Essanh), Ill Real, Infinite, Intricate Minds, IRS, Jay-Z, Kardinal Official, Mood Ruff, Phife, Phonetiks, Pimp Tea, Point Blank, Shadez & Solitair
02 - Flight Distance (Ottawa) - Flypaper
03 - K-Os (Toronto) - Fly Paper
04 - Dragon Fli Empire (Calgary) - Language of Music feat Curtis Santiago
05 - Velvet Trench Vibes (Montreal) - High School Girls feat David Hodges
06 - Flip Kuma (Ottawa) - Strangers feat Allana Stuart
07 - Frenchi Blanco (Montreal) - Stylo
08 - Miracle (Digby, NS) Under the Ground feat Phakt
09 - Classified (Halifax) - See The Truth
10 - Theology 3 (Toronto) - Temptation Island
11 - Spesh K (Halifax) - Retirement Days feat Tassja
12 - Akuma & Factor (Saskatoon) - Never Let You Go
13 - JC (Halifax) - Feeling Fine (remix) feat Classified & Jay Bizzy
14 - DL Incognito (Toronto) - Live In My Element
15 - Cale Sampson of Rhythmicru (Toronto) - The Facts of War
16 - Ira Lee (Edmonton) - Magic
17 - Grubbs (Winnipeg) - Plague of the City
18 - Wordburglar (Toronto) - Breeze feat Pigeon John
19 - David Hodges (Montreal) - Interlude
20 - D.O. (Toronto) - Just Forfeit feat Slakah, Arabesque, G Stokes
21 - Brockway Biggs (Ottawa/Fredericton) - Shake Ya Caboose (Nevski remix) feat Prentiss Church & D.O.
22 - Classified (Halifax) - Believe it or Not feat Jay Bizzy, J-Bru, White Mic & Preacher K

Super Dude Shirts
--------------------------------------------------------------------
The Super Dude Shirts are in! Black with Gold Logo. Gildan 50/50 blend. For more info, check the store

If you previously reserved one, I'll be in touch soon. Otherwise, if you're interested, drop me an email. In Fredericton, I can bring them to the show at the Capital on Thurs, Dec. 28th. Shoutout to Justin Sadler for the design!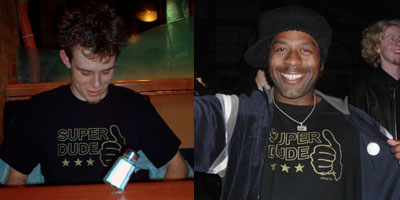 Season's blessings,
Troy aka Brockway Biggs

Brockway Entertainment - www.brockwayent.com
Brockway Biggs - www.brockwaybiggs.com
MySpace - www.myspace.com/brockwaybiggs

RIP James Brown